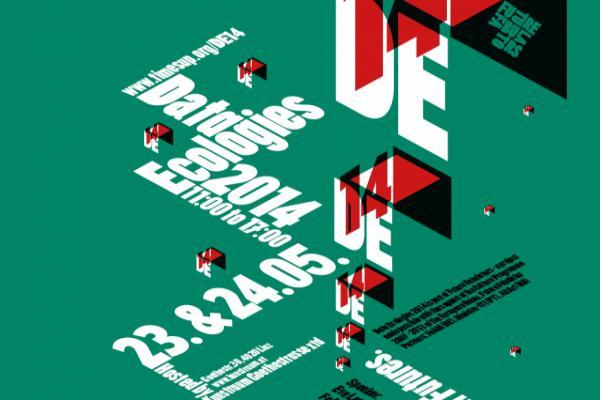 In the Future Fabulators project we are looking at speculative futures and what they offer, promise and threaten. We are looking into ways to bring those abstractions down to a more comprehensible representational reality of what they could look like, feel like and act like. In Data Ecologies 14 (DE14) we want to dive into a discussion of how this process of concretisation works, how we talk about and design experiences of possible futures. We want to explore how to meaningfully engage others and ourselves in this process rather than get lost in a maze of messy statistics and internal, inexpressable mental images.
The future can only be co-created; no single entity is responsible for making the future happen. Thus, how we talk about these developments is vital; without being able to share visions, dreams, possibilities, plausibilities and probabilities with one another, we are unable to resiliently plan for possible futures. This is the core challenge of Future Fabulators and in DE14 we wish to look at the language and tools that are used to think "out loud" about futures.
SPEAKERS IN ORDER OF APPEARANCE
Time's Up - A/AUS -- Introduction & The future of the revolution of everyday life or The revolution of the future of everyday life
Scott Smith - UK -- Unshocking Artifacts from the Future
Peter von Stackelberg - US/ -- Transmedia Worldbuilding: Bringing Tomorrow Alive for Today's Audiences
Eva Lenz - DE -- Designing the intangible side of things
Julian Hanna (MITI) - IRE & Mara Dionisio (MITI) - PT -- Possible pasts, possible futures: Exploring past and future scenarios through context-aware transmedia stories
FoAM - BE -- The future is already here — it's just unevenly ridiculous
Julian Bleecker - USA -- A catalog of an extraordinary future when it becomes an ordinary today
Trevor Haldenby - CA -- Bringing The Future to Life: Pervasive Transmedia Scenarios
Justin Pickard - UK -- In sync? Uncertainty, expectation, and the practice of foresight

TARGET AUDIENCES
With Data Ecologies we would like to address a broad spectrum of visitors and participants who are exploring ways of exploring and describing futures.
Designers looking for ways to think about the way that their and other devices, systems and experiences are constructed, used and communicated.
Narrative builders who want to discuss the possibilities of experience and narration in complex worlds.
Futurists wanting to discuss how we can drag the future into today, making is experienceable without making it trivial or a head game.
Makers who want to work out how to describe, narrate and develop the usage of their made things.
And all of us, being interested in how we can be part of our future.
Date:
23.05.2014 - 10 AM

to

24.05.2014 - 6 PM