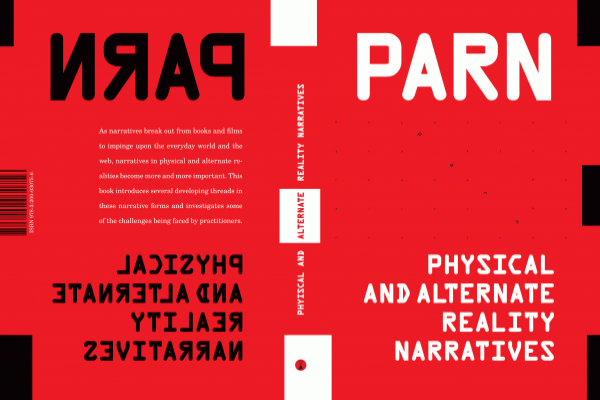 PHYSICAL AND ALTERNATE REALITY NARRATIVES
This volume is intended to summarise the experiences of the project-partners FoAM (BE), Blast Theory (UK), Lighthouse (UK) and Time's Up (AT) in the wide range of activities that took place during the pan-European project PARN. The foremost process was the creation and presentation of new work, which was undertaken with the pieces Stored in a Bank Vault, Borrowed Scenery and Unattended Luggage. Bank Vault as well as A Machine to See With were presented in the Brighton Digital Festival which included the Improving Reality conference. This conference was only one of a number of public and closed circle learning and sharing experiences including the Alternate Reality Games, Mycellium Radio and Tarot tutorials, the Legal Identity for Trees workshop as well as the Act Otherwise: A meeting of Ingenious Minds, Data Ecologies '12: The Map and The Territory and Future Perspectives symposiums.
The summarising of the experiences into such a compact volume has been a complex process and has certainly left out a number of important, exciting and vital elements of the project. The Turtles and Dragons book, the result of a book sprint after the Data Ecologies '12 symposium, gets minimal coverage, as does a lot of the content of other, less formal workshops and gatherings between the project partners and other interested parties. However we hope and trust that the elements we have been able to collect into this volume are enough to interest the reader and point the way to further developments.
PARN as well as the PARN-Book have been made possible with the support of the Culture Programme (2007 - 2013) of the European Union
Release Date: 04 - 2013
Authors:
Time's Up, FoAM, Blast Theory, Auer Tina, Boykett Tim, Eek Cooky, Gaffney Nik, Harger Honor, Howse Martin, Kuzmanovic Maja, Mayrhofer Andreas, Mertens An, Nisi Valentina, Orlic Paola
Order Now: info (at) timesup.org